About Me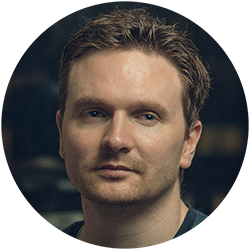 After founding and running a design and corporate video business for 2 years, I graduated from the University of Dundee with a BSc (Hons) in Interactive Media Design.
I began my professional marketing career as a freelancer and in 2007 took up a position at international security technology firm IndigoVision. By 2010 I was reporting to CEO and director level and I've been assisting international and national business owners ever since, primarily in the high tech security and safety sector. During my time at IndigoVision the company grew 40% year-on-year.
In 2012 I moved on to a dedicated home studio setup, working remotely for London-based technology company Grosvenor Technology. I also assisted Grosvenor's parent company Newmark Security PLC, based in central London.
When the chance arose to work with a large national company closer to home, while still providing services from my home studio, I began work for national fire protection and security provider FPG.
At FPG I have strengthened their marketing and helped bring new high hazard and compliance divisions to market. The company has grown, won contracts with organisations like BT and Gyron, and opened new national offices. I also increased my client base, assisting several other companies with their marketing.
"…Andrew has worked with me on various marketing projects including websites, video, and print, and he has transformed our marketing presence bringing a newfound level of unity and polish to our marketing…

 READ FULL QUOTE 
DEREK BLEYTHN
FORMER MANAGING DIRECTOR & OWNER, GROSVENOR TECHNOLOGY
"…Andrew has a touch of creative genius, with the technical ability to deliver across an impressively broad range of media…

 READ FULL QUOTE 
OLIVER VELLACOTT
FORMER CHIEF EXECUTIVE OFFICER & FOUNDER, INDIGOVISION
Real Value
The business owners I work for strongly value a technically minded, down-to-earth, single point of contact for all of their marketing needs, with expertise in any media they require. There is no drama no matter how high end or complex the project, or if tight deadlines are required. I have the custom built computing power to facilitate high end media production and bring to bear an inventory of broadcast grade audio/visual equipment.
FPG Solutions Overview
arknox
2017-07-13T13:24:40+00:00
FPG Brochures
arknox
2017-07-13T13:29:06+00:00
GS Group App
arknox
2017-07-10T22:22:22+00:00
FPG Newsletters
arknox
2017-07-13T13:32:53+00:00
I CAN HELP YOUR BUSINESS ACHIEVE ITS MARKETING POTENTIAL